THE SIERRA WESTERN
& SANTA FE RR
SANTA FE'S GATEWAY TO THE PACIFIC NORTHWEST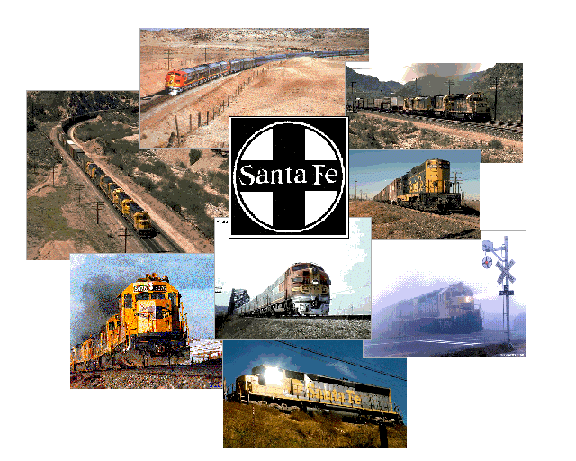 Note from the WEBMASTER
This site was put on the web to show just how exciting doing a freelance railroad with prototype controls can be.
Rick has done a tremendous job of researching AT&SF prototype practices (I know, I am helping to build this layout).
There is a lot of information available, but read through it all. At the end of your reading you will feel you have read about a real railroad and not just another model layout.
---
Welcome to the HO Scale Sierra Western & SANTA FE RR Homepage
Thanks for dropping by. While you are here, feel free to look around at your leisure. I have provided a lot of information here for your enjoyment, so take as much time as you like. Some of the text is quite comprehensive and may appear to be long, but it is intended to give you as much information as you may desire.

Most of the information here has been taken from the 'book' that I give to all new members of the group - it is mandatory reading for new members. If you persevere and read through it all you will have gained a thorough understanding of what the SW&SF is all about. As our WebMaster - Larry Moseley- has said in his introduction, we hope that in the end you will feel that you have been reading about a real railroad.

During your visit, please take a look at the LAYOUT INTRODUCTION pages for an overview of what the SW&SF is all about. Then take a few minutes and check out the TRACK DIAGRAMS for a look at the latest version of the track plans - the lower level is complete, but changes to the upper two levels are still evolving. The ROUTE MAP illustrates where the SW&SF is located (actually, it s in Northern California).

A description and schematic of each town and key area on the layout is available at the PLACE DESCRIPTIONS pages. A LAYOUT - FROM AN IDEA TO A REALITY will unveil the many steps taken to begin this layout. These steps may seem daunting, but many of them only apply because a new room addition was built to accommodate the layout. The LAYOUT STANDARDS page describes the 'rules' that are being applied to the design and construction of this layout. It lists all the requirements I felt were necessary to keep us on track (pun intended!).

If you are curious about the control system we are using, read the LOCOMOTIVE CONTROL SYSTEM page. There you will learn which DCC system we use, and how we are using it. In the MISC DOCUMENTS pages you will find a view of the proposed CTC MACHINE we're planning on building, a roster of the CURRENT LOCOMOTIVES being operated on the SW&SF, a TRACK SCHEMATIC, and various other documents. This section will hopefully grow over time as more documents are added.

Finally, and best of all, sit back, relax, and take the LAYOUT TOUR , where you will ride an imaginary excursion train chartered especially for you as you travel to the best sights and views of the layout. On the tour you will also meet the crew who is bringing this large privately owned dream layout to a reality. Take this tour often and you will be able to watch it progress as we continue to the end of the line. Just click and away you will go!

Also in the LAYOUT TOUR section you'll find several more tours to take, such as tours of pictures taken during our first operating session, and during one of the recent PCR sponsored 'open house' weekends that we participated in.

So take your time, enjoy yourself, read a little now, come back later and read some more, and eventually you will feel like you've been here with us from the beginning. Thanks again for visiting!

Your host, Rick Fortin
---
INDEX
LAYOUT INTRODUCTION

A LAYOUT - FROM AN IDEA TO A REALITY (in 1,000,000 easy steps)

LAYOUT STANDARDS LOCO, TURNOUT, SIGNAL CONTROL

LOCOMOTIVE CONTROL SYSTEM COMMAND STATION / POWER STATIONS / CABS
Description, Location and 'district limits

LAYOUT TOUR - Updated May 1998

MISC DOCUMENTS - Updated 3/14/99

This web site was a joint effort. Rick, of course, provided the substance. I wrote the HTML and Sam Romerstein did the CAD drawings.

If you would like to learn more about layout design please visit the Layout Design Special Interest Groups (LDSIG) web site.

Copyright 1996 by Rick Fortin. All rights reserved.

These pages Designed and Maintained by: Moseley & Associates
For Web Page Information contact: Moseley & Associates
Please send all comments to: Rick Fortin
Designed by a Member of